About The Society
The Furness Astronomical Society was founded in 1973 by Eddie Dixon. Eddie allowed members the use of his garden at Newton-in-Furness for any observation sessions with the society telescope, a 6" Newtonian Reflector.

Although Eddie has since moved, the land is still available for members' use today and enjoys a relatively dark location compared with town centre sites.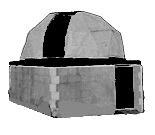 A purpose-built observatory stands on the site of Eddie's "chicken shed" with a rotating fibre glass dome sitting on top of 6 foot high walls. The society has two 6" Newtonian Reflectors which are available for hire to members each month. The observatory is capable of housing a 10" Newtonian Reflector, purchased by a consortium of members, and a Meade LX90 12" on loan from a member but available to other members.

We also have a library of books and videos available for hire for a nominal fee.
Meetings (usually with a guest lecturer/speaker) are held monthly at Trinity Church Centre (Lower Meeting Hall), Abbey Road (opp Kwik Fit), Barrow-in-Furness, LA14 5HT (please use the entrance at the back in Warwick Street) at 7:30pm on the first Friday of the month (except June, July and August).